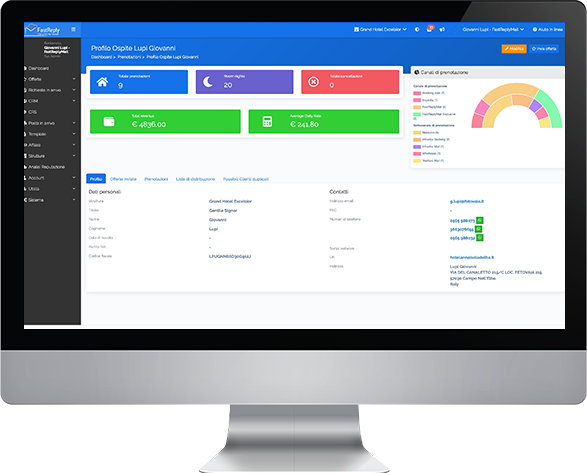 Customer Relationship Management
---
The FastReply suite has been enrichened with a new and important tool for your hotel, residence or Bed & Breakfast, and it has multiple new functions.
---
FastReplyCRM®
allows you
to manage the relationship you have with your guests
, and you can track the entire experience on and off line both with the guests in your type of holiday accommodation as with those you may have in the future.

Profile and management of the information

Personalized offers

Automatize the processes

Performance

Increase your profits

Completely integrated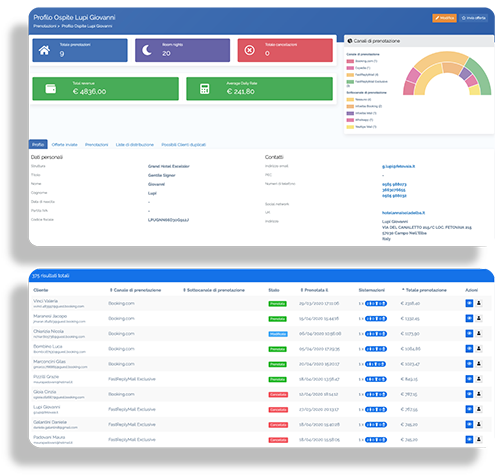 Fast Check-in innovations. The fact that guests are able to gather the digital data before their arrival at the hotel enables their check-in to be carried out in less time and more easily.
Automatic sending means relationships with guests are better run so customer loyalty is faster and more efficient.
Efficient guest management in your hotel. Every customer card provides information concerning offers sent, bookings, channels, types and prices of rooms. Over time you can check what a single client has paid.
Personalized. With FastReplyCRM® you can check your clients' preferences as regards type or cost of room so as to be able to create personalized offers depending on their needs or preferences.
Marketing activity. FastReplyCRM® enables you to carry out a filtered selection of your clients and create distribution lists.
Newsletter. FastReplyCRM® enables you to send the clients in your hotel promotion emails based on their profile and the results obtained from them.
Statistics and performance. With FastReplyCRM® you can check the state of all the emails you have sent and above all the bookings received, including those made on OTA (booking.com, expedia etc.) and then analyze the results.
Other characteristics and functions
Perfectly integrated with all the FastReply® products.
Conditions and services included
Contract of yearly service.
Initial training on how to use the system.
Technical assistance for the entire period of service.