TEMPLATES
FastReplyCRO® enables you to create various types of templates for sending emails of your type of holiday accommodation according to the use for which they have been created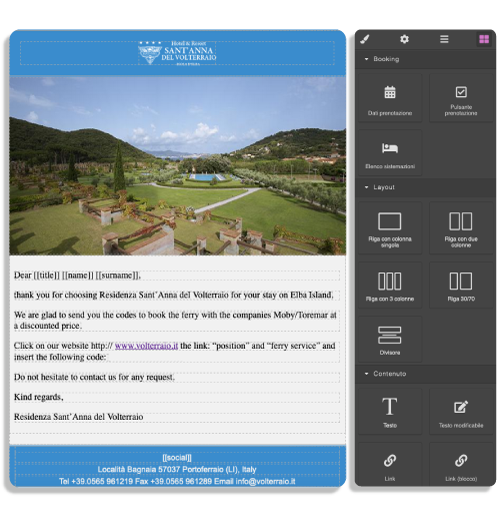 Templates in HTML
---
Choose your favourite layout
---
The HTML template is the first element to start with when working on the offers of your hotel, residence or B&B. A template is a layout model that defines the graphic structure of your mail and it plays a fundamental role in the style, design and organization of the content, or, in short, the success of the project.
There are 5 different templates for each language (Italian, English, French and German) included in the annual fee; but needless to say on request you can have extra templates for further offers.
On request each model can be personalized with different words and different multimedia styles either by a webmaster of your choice or chosen by us. Or, if you prefer, you can ask us for extra templates if you wish graphics that are more elaborate.
How to choose the perfect template for your offer
Before choosing the most suitable template you need to know exactly what goal you are aiming at. Ideally the aim is to reach the goal of the special offer your hotel wants to make known, so we advise you consider various aspects, for example, what elements of your business you want to promote more than others or what services you want to offer.
Needless to say, if you wish you can create your own template with its own html code.


---
fast and simple graphics
foreground photographs
easy to understand
videos
key inserts
link inserts
booking key
accommodation list
Simplified HTML template
---
A simplified template is a layout model where you can insert only one textual context and a link.
---
It has been created for automatic re-sending of your emails and this allows you to send the same special offer or a different email after one containing a special offer that you have previously sent.
The main reason for the automatic re-sending template is to send a special offer once again that has not been read, sometimes an email is not even opened because it has ended up in SPAM.
A simplified template only contains words so this prevents it from ending up in SPAM while, at the same time, it enables you to add a link in order to see the previously sent offer.
---
Textual template
---
A textual template is a layout model where you can only include a textual content.
---
Textual templates are the most common type of WhatsApp messages.