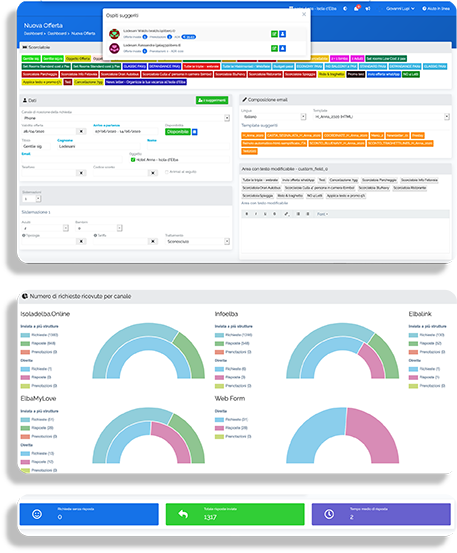 FastReply® is the
CRM / CRO
software that your holiday accommodation needs
---
Created to make estimates and booking requests easier, whether they are made over the phone, sent via email or on the request form on the website; it is the first CRM / CRO (Customer Relationship Management/Central Reservation Office) for hotels and residences, that can "communicate" both with the destination portals and directly with your booking engine too.
---
By using FastReply®, you will be able to increase all your direct bookings and at the same time improve your engine booking system to the full and also perfect any alterations you wish to make on your web site.
---
It is interfaced with the major PMS* hotel management platforms to be found on the market today.
---
The recent development ensures the best CRM solutions possible and enables you to have the most fruitful relationship with your guests.
---
System integrated with WhatsApp
With just one click you can send the link of your offer via WhatsApp!
SmartBooking
and SmartRate
---
SmartBooking is a booking engine for hotels and residences and can be completely integrated into your web site.

---

SmartRate is a Channel Manager that is part of SmartBooking, and it enables you to apply your prices and choose the best and most suitable sales channels available on line.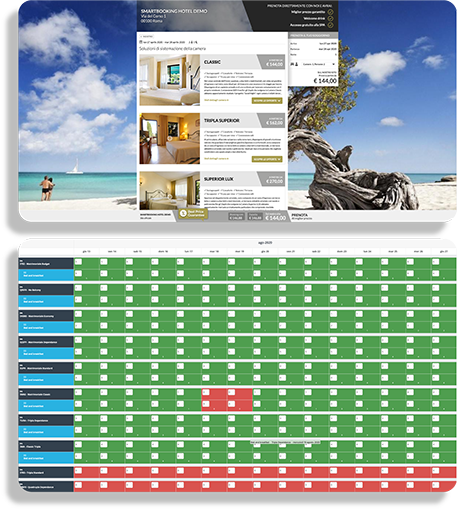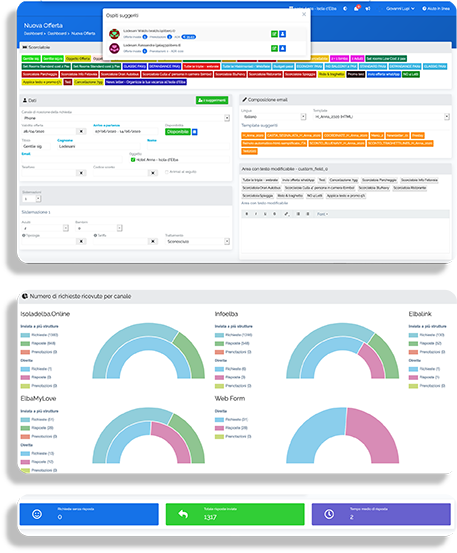 Save time and money
and earn more from your clients
---
1. Is your choice of sales channel complex to the point that you want to reduce the running costs?

---

2. Would you like to have a lesser need of OLTA and manage your clients directly with a professional CRM and at the same time add it to the sales channel that best meets your needs?

---

3. Do you want to increase the sales in your area of work with a convenient solution of distribution on GDS?

---

4. Would you like to be quicker than your competitors when running your estimates for booking requests, thanks to a professional and fully integrated tool in your sales system?

---

5. Do you want to make any of your offers more widely known on metasearch, increase the bookings and become better known through campaigns organized by Google Hotel Ads and Trivago?
We have just what you need in a clear, simple and economical system, that will help you grow and reduce your costs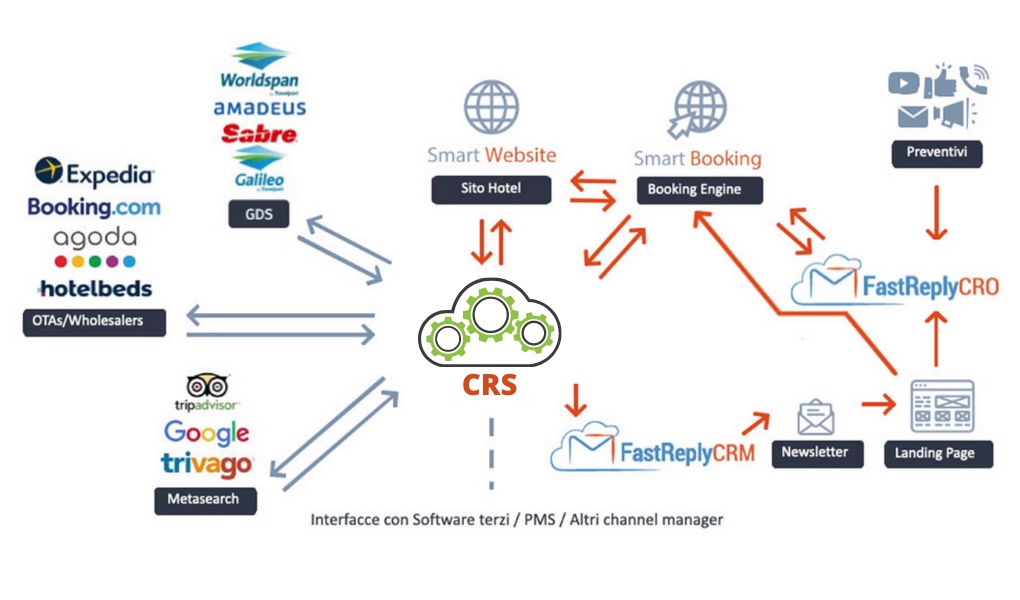 Why you should choose our solutions
A complete and economical ecosystem to manage distribution as well as both your direct and indirect sales on various channels:
Customer Relationship Management
FastReplyCRM® is the first CRM that has been created specifically for hospitality: groups of hotels or indipendant hotels. It improves how you communicate with your guests before, during and after their stay. It offers many different functions and sends questions to your database, creating groups that have a lot in common and hence enabling you to provide your clients with a personalized offer.
---
Central Reservation Office
By exploiting all the possibilities on your booking engine, all estimate and booking requests will receive a fast and simple answer.
---
GDS distribution
Contact your incorporated clients/ businesses through GDS distribution.
---
Solutions for direct sales
Smart website & Smart booking engine.
---
Metasearch distribution
In order to obtain more publicity on the search engines.
---
Direct marketing
Add your special offers to your distribution system.
---
OLTA Distribution and Wholesalers
We are always very interested in whatever questions our guests may wish to ask and fully aware of the necessity to further develop the system so in the 2.0 version we have added new, important aspects to the FastReply® software. Innovative and fundamental functions have been created and are constantly updated so as to run holiday accommodation in the best possible way and hence increase the number of bookings.
Contact us if you wish to request
a demo!
SOME OF OUR CLIENTS
---


---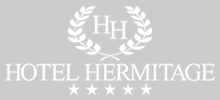 ---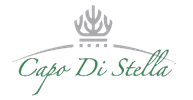 ---


---


---



FastReply®
If you wish to answer all the estimate and booking requests in the hotels quickly and easily.