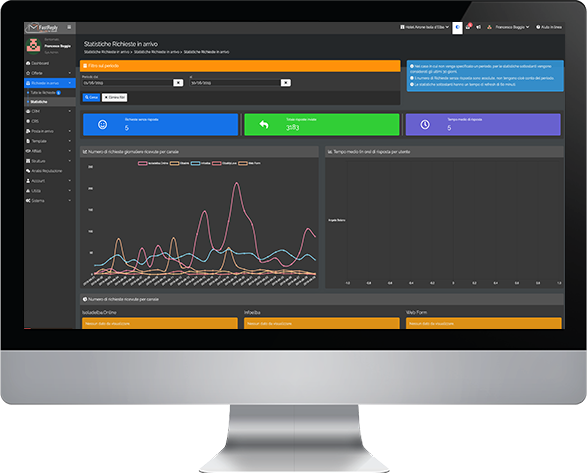 Central Reservation Office
---
FastReplyCRO® is like an assessor through which you can manage your estimate and booking requests for your type of holiday accommodation in a simple, fast and functional way.
It is connected with the main PMS hotel managing systems on the market.
You will be able to answer all the requests received very quickly with a professional offer.
---
System integrated with WhatsApp
The possibility of taking full advantage of sending your special offers and emails with FastReply offers infinite potential thanks to how quickly your message is received, to what extent the client is involved and how simply he can react.

Increase your conversions

Save time

Simplicity

Performance

100% cloud

Multiuser and multistructure

Interface in your language

Assistance in Italian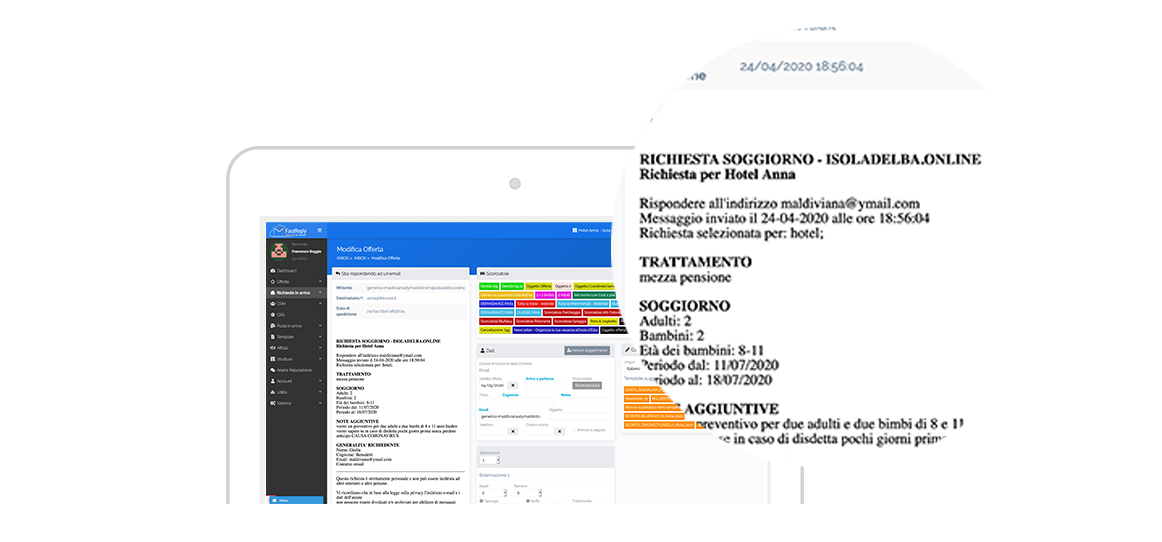 Interfaced and integrated. FastReplyCRO® is in direct contact both with the destination portals and also with your booking engine.
Multichannel reception. You can manage all your request emails on the connected channels; by email, OTA, GDS, web site forms and via phone, and in with just a few clicks you can send offers and reply to requests.
Incoming mail. FastReplyCRO® means you will receive emails on the interface and compose your offer and answer with the offer composition mask.
Answering your emails is very fast. FastReplyCRO® means you can answer all the requests very quickly, take full advantage of the efficient and intuitive tools and add any data very quickly.
It increases your conversions. Through the FastReplyCRO® assessor, every request is automatically sent to the online booking, while making the most of all the potential and at the same time enabling you to increase the direct bookings made to your hotel.
Simple. FastReplyCRO® is an accurate assessor that is easy to understand. You can create models of emails with offers in your hotel and use them at your discretion in order to answer your clients with a simple click and suggest when to come, or confirm their booking, or send them their discount code.
Always up to date with the online booking system. When you are writing your email, depending on the availability of the dates requested and for how many clients, FastReplyCRO® will send the future client the best possible solution.
Safe. If you consult the online booking system you reduce the possibility of mistakes to the minimum as regards the prices offered or the availability or the risk of overbooking and at the same time fill your hotel, residence or Bed&Breakfast as much as possible.
Performance. FastReplyCRO® enables you to keep an eye on the single incoming channels, the attention paid to your offer (sent, read or booked) and analyze the outcome: the efficiency of the mails you have sent, how fruitful the single booking channels are (portals, websites, landing page, OTA or phone), the performance of one or more types of holiday accommodation as well as that of the various operators connected to them.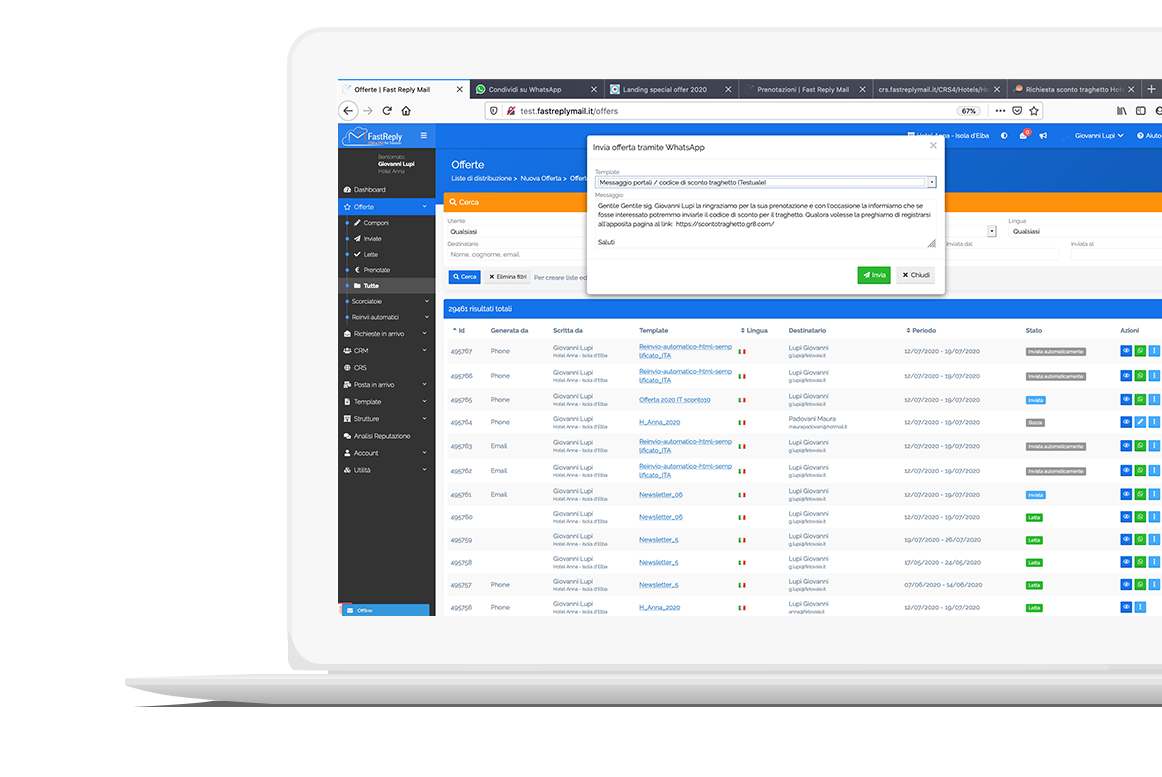 Other characteristics and functions
Automatic sending and retransmission of mail to entice clients to book and to improve the conversion of the bookings.
Multi channel communication. Just click once and you can share the "special offer sent" link with others via WhatsApp or Messenger and other instant message systems!
Professional, appealing and convincing graphics that you can choose according to your personal taste.
Multi Hotel Function.
Personalized and responsive communication. Mail sent with graphic content based on the type of request, using the template suggested.
It is a cloud solution, available at all times and with no need to download any extra software.
Conditions and services included
Yearly service contract.
Booking hosting.
Initial teaching practice on how to use the system.
Technical assistance for the entire period of use.